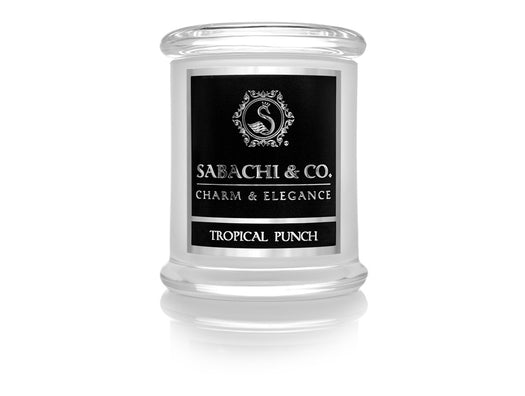 Tropical Punch X-Large Soy Candle
SABACHI & CO
Escape into a world or tropical pleasure with this fruit cocktail of all things enticingly sweet. Featuring an array of tropical colours and tastes, this fragrance has all of your favourite flavours of summer including Mango, Mandarin, Lime, Lemon and Pineapple.
Indulge all of your senses with this elaborate blend of scrumptious summer scents.
Burn Time: Up to 120 hours

OUR SOY CANDLES ARE
100 % AUSTRALIAN MADE

FREE SHIPPING ON ALL
ORDERS OVER $80

SAFE AND SECURE
SHOPPING

COMPLIMENTARY GIFT
WRAPPING ON ALL ORDERS
---
Review

SHIPPING & DELIVERY

CANDLE SAFETY
AUSTRALIA STANDARD DELIVERY
3-7 business days for delivery to NSW,VIC,ACT
7-14 business days for delivery to SA,WA,NT,QLD,TAS
Sabachi & Co uses a courier service to dispatch all orders, except rural orders which are sent via Australia Post.
Tracking details for your order will be included in a confirmation email once dispatched. Alternatively you can contact us at sales@sabachi or by direct, private message on Facebook between 9am-5pm (AEST) if you have questions regarding an order.
Timing of delivery is subject to payment authorisation and stock availability. 
Orders made after 2pm will be shipped the next day.
Sabachi & Co does not dispatch orders over weekends or on public holidays.
The first time you light your Sabachi Candle, let the wax melt all the way to the edge of the glass. This is to prevent tunnelling and will help create a candle memory.
Never burn a candle for longer than 2 – 4 hours at a time. Extinguish your candle using the glass lid as a snuffer.
Allow the soy wax to harden and then trim the wick to 5mm before or after each burn to prevent smoke and flame.
Avoid cutting the wick too short as this will create problems with re-lighting.
If you get any black charcoaling at the rim of your glass, simply wipe with a dry cloth.This may be a sign that your wick is too long and needs trimming.
Place the candle on a stable heat resistant surface.
Never burn a candle on or near anything flammable.
Avoid exposure to wind draughts and direct sunlight.
Never leave a lit candle unattended.
Keep out of reach of pets and children.
Handle with care as container may become hot.
Do not store candles in a freezer or leave them in a hot car.
Please remember the candles are hand poured and hand made. Although every effort is made to ensure consistency, every candle will be different.
When using 100% soy wax, sometimes you may notice dark patches or wet spots in your candle. This is not a fault and will not affect the candle in any way.
100% NATURAL SOY WAX
100% HAND MADE & HAND POURED IN AUSTRALIA
www.sabachi.com
---
---
Share this Product
---
More from this collection
Buy now. pay later. interest-free.
We have partnered with Afterpay to bring you simple, interest-free payment plans. Buy what you want today, pay with it suits you best.
No payment today
Pay in 4 simple fortnightly instalments
No hidden fees
100% interest-free
No card application
No lengthy application. Instant approval online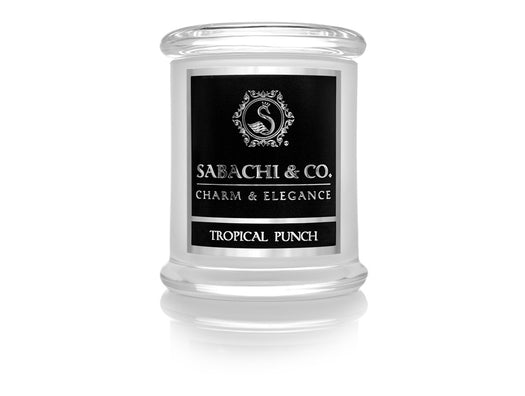 Tropical Punch X-Large Soy Candle
SABACHI & CO
$110.00

+ $10
In 30 characters or less, tell us your personal message and we will have the message imprinted on the label in Silver foiling for only $10
Please note:
Some messages given spacing specifications may need to be shorter than 30 characters but we can assess the message once received.
10 working days notice ahead of your desired delivery date. Larger orders require up to 14 working days notice ahead of your desired delivery date.
Top
X
Modal Window
Modal Text